Alright, folks – here's the deal. I really dislike the term "pegan" (i.e. paleo + vegan). It's overly trendy and I believe it's used purely as a marketing gimmick. So let me just be clear that I am not a "pegan" and that I do still follow the AIP diet 80% of the time because frankly, it's just what makes me feel best.
Now that we've got that out of the way, let's dig into one thing that I think is important: vegetables. I put this list of "Veg" AIP recipes together for myself actually, because a recent food journal revealed that I was eating a bit more meat than I am comfortable with (aka meat at every meal).
I'm not going to open a dialogue of whether or not I believe this is scientifically good or bad for you because the debates are ENDLESS, but I'll just say that I think there probably is some logic to the idea of eating at least a couple plant-based meals per week, or at least trying to find a balance between meat and plenty of vegetables. I used to be a vegan (click link for info on how I transitioned from vegan to paleo), and my takeaway from that experience is that for me and my body personally, I probably do well with a something like a 70/30 split, where I'm eating 70% veg-based and 30% meat based. The past year has probably been a 30/70 split, so I'm excited to see how falling back to somewhere in the middle of the spectrum can help me with my spiritual and physical health goals.
So anyway – enough about me. Onto the recipes! Here's 30-something recipes that are Paleo AIP + Vegan (or can be made to be, with very small modifications). And actually, if you count the amazing roundups that I listed at the end of the post, it ends up being more like 130 recipes to help you get more plant-based fuel into your diet. So go get your Veg on – and enjoy!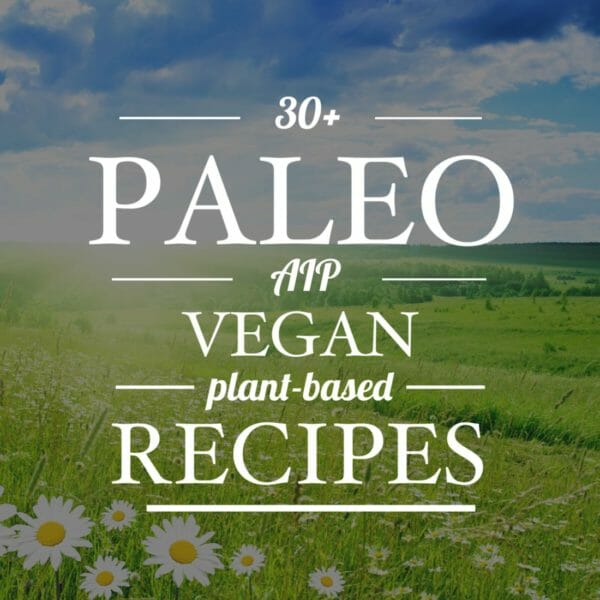 MAIN DISHES
PORTOBELLO MUSHROOM TACOS
https://healthynibblesandbits.com/harissa-portobello-mushroom-tacos/
Make AIP: Don't use harissa rub or cumin on the mushrooms (try my super simple AIP taco seasoning instead!), omit tomatoes from the guacamole, choose AIP-friendly toppings
EGG-FREE ZUCCHINI POPPERS
https://thebigmansworld.com/2017/04/13/4-ingredient-zucchini-cauliflower-fritters-paleo-vegan/
Make AIP: use the egg-free version of the recipe and try subbing out the "GF/all-purpose flour" with cassava flour (usual recommended ratio is 1:1 cassava: "normal" GF flour mix)
CARAMELIZED ONION SPAGHETTI SQUASH
https://thealmondeater.com/2015/11/caramelized-onion-spaghetti-squash/
Make AIP: sub coconut oil for the butter, obviously don't cover with parmesan cheese. 🙂
SWEET POTATO TOAST (3 WAYS!)
https://littlebitsof.com/2016/05/sweet-potato-toast-3-ways/
Make AIP: The first variation with avocados is AIP as-is. The second could be done if you maybe just sub the almond butter for tigernut butter. The third variation would be fine if you just use your AIP-friendly mayo sub!
AIP SOFT VEGGIE TACOS WITH GREEN TORTILLAS
http://asquirrelinthekitchen.com/green-veggie-tacos/
*AIP as-is!
SPAGHETTI SQUASH CHOW MEIN
http://www.justpaleofood.com/spaghetti-squash-chow-mein-aip-vegan-gluten-free/
Make AIP: omit the pepper
AIP CAULIFLOWER PIZZA RECIPE WITH PESTO
https://healingautoimmune.com/aip-cauliflower-pizza-with-pesto-recipe
BUTTERNUT SQUASH NOODLES W/ SPINACH & MUSHROOMS
https://www.tastingpage.com/cooking/butternut-squash-noodles-with-spinach-and-mushrooms-gluten-free
*AIP as-is!
** Pro tip: You may want to buy pre-spiralized butternut squash noodles if this is sounding too intimidating or labor-intensive. Whole Foods usually has them pre-packaged!
*** Double Pro Tip: Sometimes handling raw butternut squash like this can leave an AWFUL dry, film-like substance on your hands. I'd recommend wearing gloves if you're going to spiralize it yourself
AIP MUSHROOM RAVIOLI
http://www.flashfictionkitchen.com/mushroom-ravioli/
*AIP as-is!
AIP NO NIGHTSHADE RATATOUILLE
http://asquirrelinthekitchen.com/aip-no-nightshade-ratatouille-from-simple-french-paleo/
*AIP as-is!
AIP SPINACH STUFFED RAVIOLIS
http://www.feedingyourselfwell.com/recipes/aip-spinach-stuffed-raviolis
*AIP as-is!
VEGETABLE SCRAMBLE
http://autoimmunewellness.com/vegetable-scramble/
*AIP as-is!
AIP BOK CHOY CAULIFLOWER RICE
http://asquirrelinthekitchen.com/aip-bok-choy-cauliflower-rice-easy-paleo-vegetable-recipe/
*AIP as-is!
AIP + VEGAN SIDE DISHES
CARROT RAISIN PINEAPPLE SALAD
https://www.noshtastic.com/carrot-raisin-pineapple-salad-gluten-free-paleo-whole-30/
Make AIP: sub out the mayo for an aip-friendly alternative
CINNAMON ROASTED SWEET POTATOES & CRANBERRIES
https://littlebitsof.com/2015/11/cinnamon-roasted-cranberries/
*AIP as-is!
BALSAMIC ROASTED BRUSSELS SPROUTS
https://thebigmansworld.com/2014/12/19/copycat-whole-foods-balsamic-roasted-brussels-sprouts/
Make AIP: omit black pepper
ROASTED VEGGIES WITH (OPTIONAL) PESTO
http://asquirrelinthekitchen.com/roasted-vegetables-with-pesto/
*AIP as-is!
HONEY GARLIC CARAMELIZED CARROTS
https://heartbeetkitchen.com/2015/recipes/type/vegetables/honey-garlic-caramelized-carrots/
*Make AIP: sub coconut oil for the butter, use sea salt vs. kosher salt
EASY AIP COLESLAW
http://www.grassfedgirl.com/easy-autoimmune-paleo-coleslaw/
*AIP as-is!
RADISH SALSA
https://theliveinkitchen.com/radish-salsa/
Make AIP: omit the jalapeno, use sea salt vs. kosher salt, leave out the black pepper
APPLE BROCCOLI SALAD
https://veganinthefreezer.com/vegan-apple-broccoli-salad/
Make AIP: just omit the sunflower seeds!
PALEO + VEGAN SOUPS
PALEO DETOX GREEN SOUP
https://iheartumami.com/paleo-detox-green-soup
*AIP as-is!
CREAMY ROASTED GARLIC CAULIFLOWER SOUP
http://runningonrealfood.com/creamy-roasted-garlic-cauliflower-soup/
*AIP as-is!
SPICED CARROT & PARSNIP SOUP
http://www.pureandsimplenourishment.com/blog/2016/12/spiced-carrot-and-parsnip-soup.html
*Make AIP: omit cumin, sub mace for nutmeg
PALEO AIP + VEGAN DESSERTS
AIP VEGAN BANANA BREAD
http://www.forestandfauna.com/aip-paleo-banana-bread-vegan/
*AIP as-is!
VEGAN AIP GIRL SCOUT COOKIES
http://www.forestandfauna.com/autoimmune-paleo-samoa-girl-scout-cookies/
*AIP as-is, just follow the instructions!
VEGAN AIP TIGERNUT FLOUR SHORTBREAD COOKIES
https://www.feastingonfruit.com/tigernut-flour-shortbread-cookies/
*AIP as-is!
CHOCOLATE MATCHA ENERGY BALLS
http://unboundwellness.com/chocolate-matcha-energy-balls/
*AIP as-is!
BLUEBERRY CHEESECAKE TART
http://www.flashfictionkitchen.com/blueberry-cheesecake-tart/
*AIP as-is, just follow directions for the AIP crust
CHOCOLATE SWEET POTATO PIE WITH BROWNIE CRUST
https://www.hankering4healthy.com/chocolate-sweet-potato-pie/
*Make AIP: sub carob for cocoa powder
PUMPKIN PARFAITS
https://aiplifestyle.com/pumpkin-parfaits/
*AIP as-is!
OTHER FUN RECIPES
TIGERNUT CRUST
http://www.theorganicdietitian.com/what-are-tigernuts-tigernut-flour-crust-vegan-gluten-free-paleo/
*AIP as-is (just leave out the optional curry powder)! You could use this for a sweet crust or savory crust – could try to make an AIP deep-dish pizza, or a great AIP pie.
DAIRY FREE SPINACH ARTICHOKE DIP
http://www.primallyinspired.com/dairy-free-spinach-artichoke-dip/
*AIP as-is! (this recipe originally appeared in Rachel Bryant's Nourish cookbook)
And finally… here's 2 holy grails of 95+ AIP-friendly veg dishes:
http://gutsybynature.com/2016/12/10/aip-recipes-fall-winter-vegetables/
http://gutsybynature.com/2016/05/08/aip-spring-vegetables/