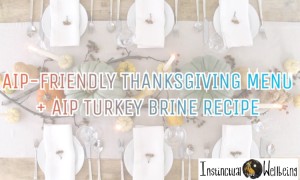 Thanksgiving is upon us! I literally can't believe it's here already — seems like just yesterday we were celebrating the start of the year; how is it almost over already?! This Thanksgiving is extra special to me because – while it's our third Thanksgiving celebrating together – it's my fiance and I's first Thanksgiving as an engaged couple living together in our new condo (2017 update: We're now MARRIED, so it's our first Thanksgiving as a married couple :)). We also threw an AIP Friendsgiving for our local autoimmune support group here in Kansas City a few weeks ago and that was a huge success, so we definitely have a high bar to meet for our little dinner together.
To prepare for the big day, I wanted to share what's on our Thanksgiving menu, and as a BONUS – share my recipe for an amazing AIP turkey brine! I've used this brine recipe for three years now and it produces the most moist and delicate turkey ever — I'd definitely recommend it and that's not just me being biased! Others can attest to its greatness. 🙂
Now onto the menu…
Mitch + Britt's AIP-Friendly Thanksgiving Menu
Appetizers
Turkey
Brined (see below for recipe) + served with fresh orange-cranberry relish*
*Cranberry relish recipe is basically just 16oz fresh cranberries, 2 oranges, 1 apple, and some cinnamon and ground ginger blended together in a food processor – simple yet delicious!)
Sides
Dessert
Honorable Mention: This will be my first year NOT making this amazing dessert from Empowered Sustenance, but I still had to give it a shout-out because it's been so good to me over the years. It's a crustless, AIP-friendly pumpkin panna cotta. This actually seems to be an updated recipe because it has a nice tigernut crumble added to it, but I've been making this panna cotta recipe since 2013 and it's so amazing.
Beverages
Various herbal teas (I like to use

this vanilla rooibos tea

[or something similar] and blend together with coconut milk to make a tea latte!)

La Croix

Aaaaand the one big "splurge" that we allow ourselves each year is So Delicious Coconut Milk Egg Nog. It's not AIP-friendly but I gotta be honest – it's worth every dang sip. I've tried to make my own in the past but it's just…not the same and I'm a HUGE egg nog fan so I need my egg nog! #treatyoself. 😉
And below is the brine recipe, as promised. We hope you have a great Thanksgiving and wonderful start to your holiday season! Happy Eating.
AIP-Friendly Turkey Brine Recipe
2016-11-19 18:39:57
Ingredients
⅔ cup fine sea salt
2 cups broth (I like to use a compliant broth like this turkey bone broth, or you can make your own of course)
1 gallon purified water
½ cup coconut sugar
1 tablespoon dried thyme
1 tablespoon dried rosemary
1 tablespoon dried sage
5 bay leaves
Orange peel from 1 orange (optional, but adds a nice subtle flavor)
Instructions
Combine all ingredients in a large stockpot
Bring mixture to a boil and stir so that sugar and salt dissolve
As soon as it starts to boil, turn off the heat and remove from heat
Allow brine to cool COMPLETELY before pouring over the turkey (you can put it in the fridge to help it cool down faster)
Once it's cooled and ready to use, add turkey to brining bag
Pour brine over turkey (inside bag, of course)
Seal bag and refrigerate for 12-16 hours
Once you're ready to roast your turkey, you'll want to discard your brine. Also remember to rinse your turkey under cold water just to get any excess salt off the outside of it
Pat your turkey dry with paper towels
Rub your turkey down with cooking fat (I use palm shortening or coconut oil)
At this point...you can season the outside of your turkey with some LIGHT seasonings - most of the seasoning is sort of captured through the brining process, but sometimes I'll add a little bit of dried herbs to the outside
Stuff your turkey w/ veggies if you usually do that
Roast according to your normal roasting method!
Notes
Good for about an 8-13 lb turkey.
http://www.instinctualwellbeing.com/