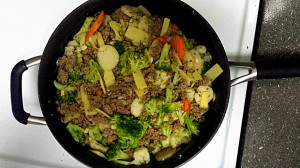 I love Chinese food. It's just so warm and flavorful, and reminds me of some great times I had back in college (hangover cure, anyone?). Additionally, stir-fry is also one of my favorite dishes to make because it is easy – it's so versatile that you can pretty much throw any sort of veggie and meat combination in there and you'll have yourself an amazing meal in about 20 minutes.
How is this possible, you ask? Well for me, it starts with a good stir-fry sauce. Now of course, the majority of stir-fry sauces on the market (or in restaurants) today are made with many ingredients that those following the autoimmune protocol diet (or even just strict paleo) should avoid, such as soy, gluten, sugar, red pepper flakes, sesame oil, etc., so I decided to take matters into my own hands and create my own quick stir-fry sauce that can easily be mixed in with a variety of veggies and meats to make a beautiful AIP-friendly stir-fry dish.
This sauce features bold flavor combinations traditionally found in Asian cooking like garlic, ginger and onion (from the chives). I also added some depth by using beef broth, acidity with the lime and coconut aminos (aka one of my favorite ingredients to cook with ever) as a direct AIP substitute for soy sauce (if you haven't tried it, you should! It's a perfect substitute for soy sauce, which is a no-no on the autoimmune protocol diet).
I hope you find this stir-fry dish as satisfying and easy (it's almost as simple as ordering take-out!) as I do.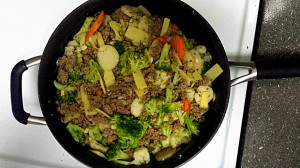 Easy Autoimmune Protocol Beef Stir-fry
2014-10-09 22:26:38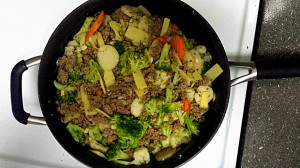 Sauce Ingredients
1/4 cup coconut aminos
Juice of 1 lime (about 2 tbsp)
1/4 cup all-natural/organic beef bone broth
1 tbsp dried cilantro (I'd recommend using dried in the sauce)
1 tbsp chives, chopped
1 inch piece of ginger, peeled and minced
2 garlic cloves, minced
1 tsp sea salt
Stir-Fry Ingredients
1 lb ground beef
1.5 lbs frozen mixed veggies (I use an organic California blend with carrots, cauliflower and broccoli)
1 can bamboo shoots
1 can water chestnuts
Any other veggie(s) you want!
For Sauce
Mince ginger and garlic
Mix all sauce ingredients together; set aside
For Stir-fry
Steam/cook any frozen veggies by adding about 1/4 cup water to a pan pouring veggies in and putting lid on pan - this will help "steam" the veggies
While veggies are cooking, brown your beef
Once frozen veggies are done cooking, add in bamboo shoots and water chestnuts
Combine cooked ground beef with veggie mixture
Pour sauce over top beef and veggie mixture; cover and let simmer together for about 5 mins
Enjoy!
Notes
For me, I find that the sauce alone adds enough flavor. However, if you feel like it needs more "oomph" after pouring the sauce on top of veggies/meat mixture, add about 1 tsp each (or a combo) of: garlic powder, onion powder, ground ginger and a pinch of salt.
http://www.instinctualwellbeing.com/