If you're looking for an grain-free, AIP-friendly tortilla recipe, you've come to the right place! These homemade tortillas are bendy, delicious, and made with just 3 ingredients (plus salt and water) that are easy to find in your pantry, local store and Amazon.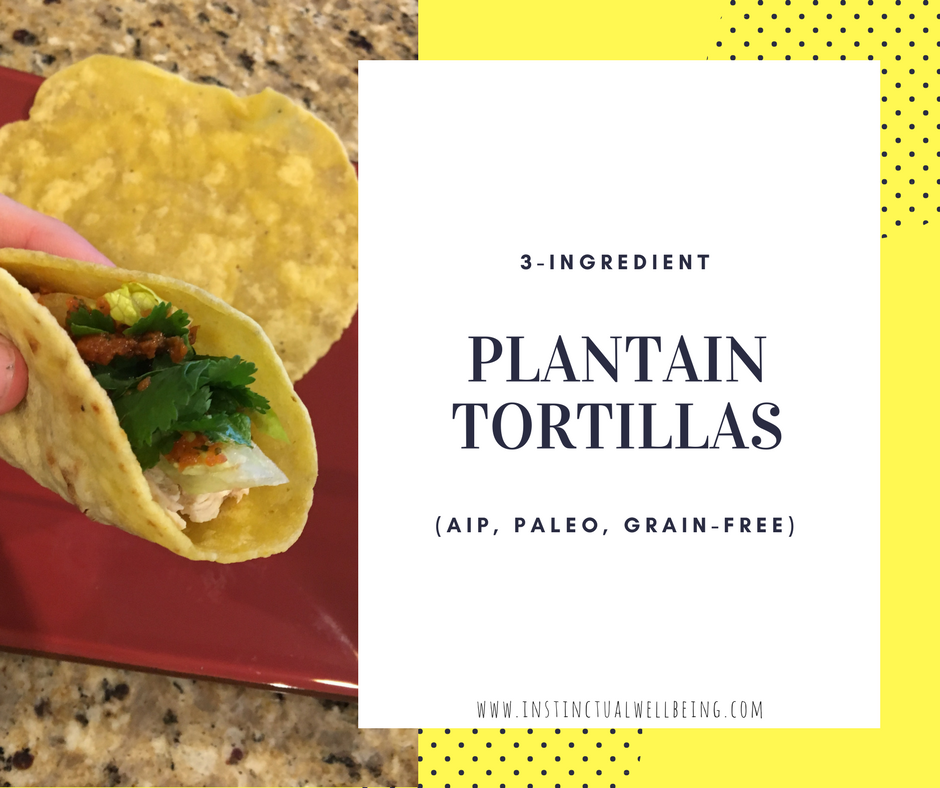 What makes these plantain tortillas special is that the process very much follows that of "traditional" tortilla making, except you'll have a plantain masa vs. a corn masa (aka, the dough). That said, when you look at the recipe, don't be intimidated by the number of steps — basically what it's saying is: "bake plantains, cool plantains, blend ingredients until a dough forms, chill dough, roll into balls, press tortillas, cook tortillas, eat tortillas." 🙂 We just included a lot of details because I personally had never made tortillas from scratch, so we felt the need to be pretty specific.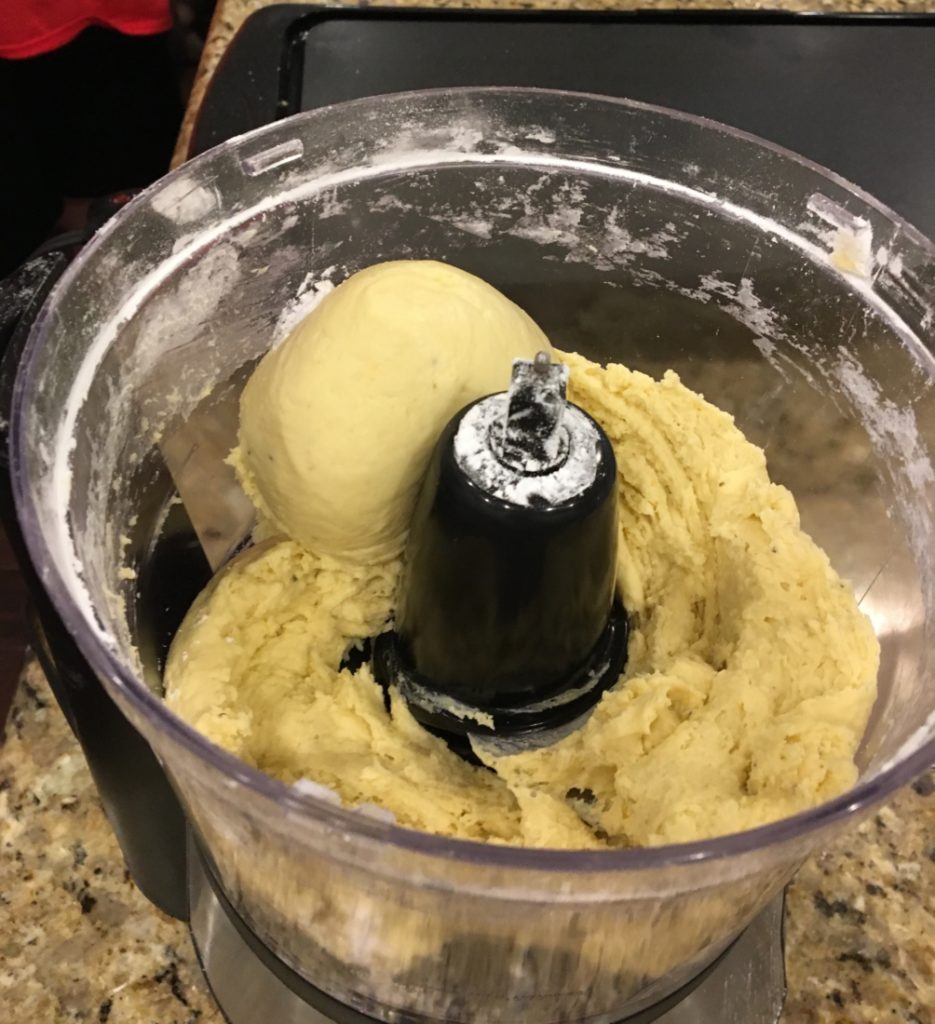 The other thing that makes this tortilla recipe special is that my Dad helped create it! He's a Chef, so it's exciting to have him contribute recipes and his perspective on cooking (as opposed to my purely home-cooking background, which is great but sometimes I don't always know the "tricks of the trade" and science behind why things work or don't work like he does).
He even put together a 90-second video on how to make the PERFECT 6″ tortillas using a tortilla press. I'd highly recommend watching it and using a press (like this one from Amazon) so that you can get the thickness correct, which is important.
Now that you know how to use the tortilla press, let's get into the recipe so that you can get on to your taco night (don't forget the AIP taco seasoning!) Hope you enjoy these tortillas as much as we do. 🙂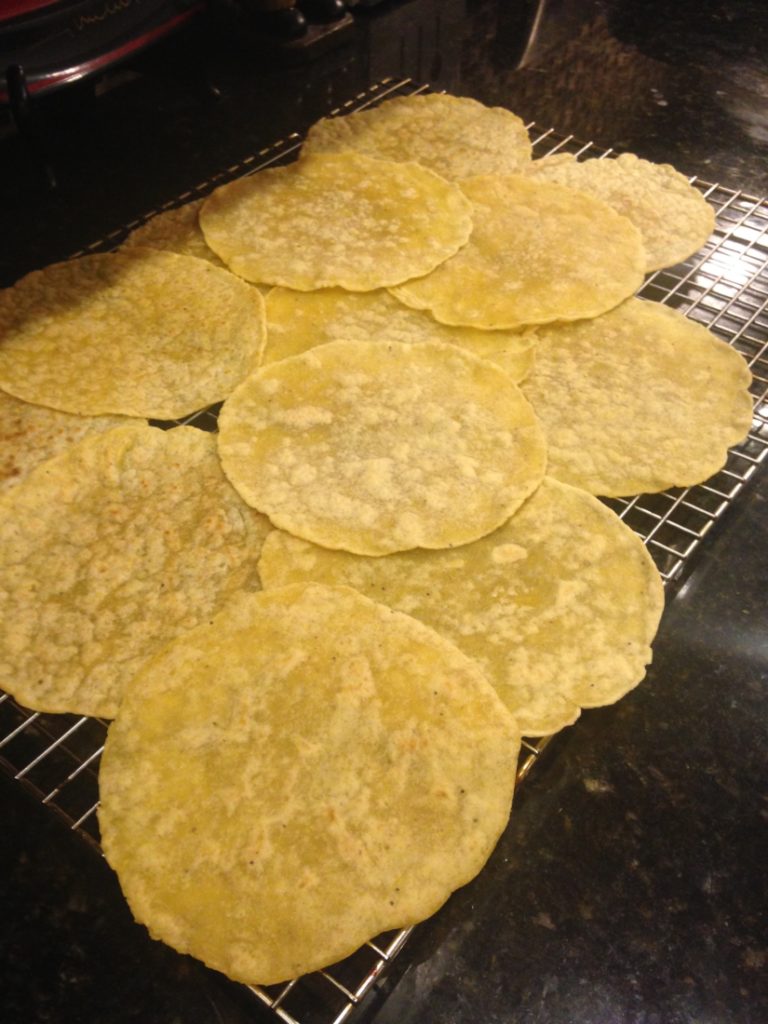 Grain-free Tortillas (Paleo/AIP)
2018-01-25 10:48:11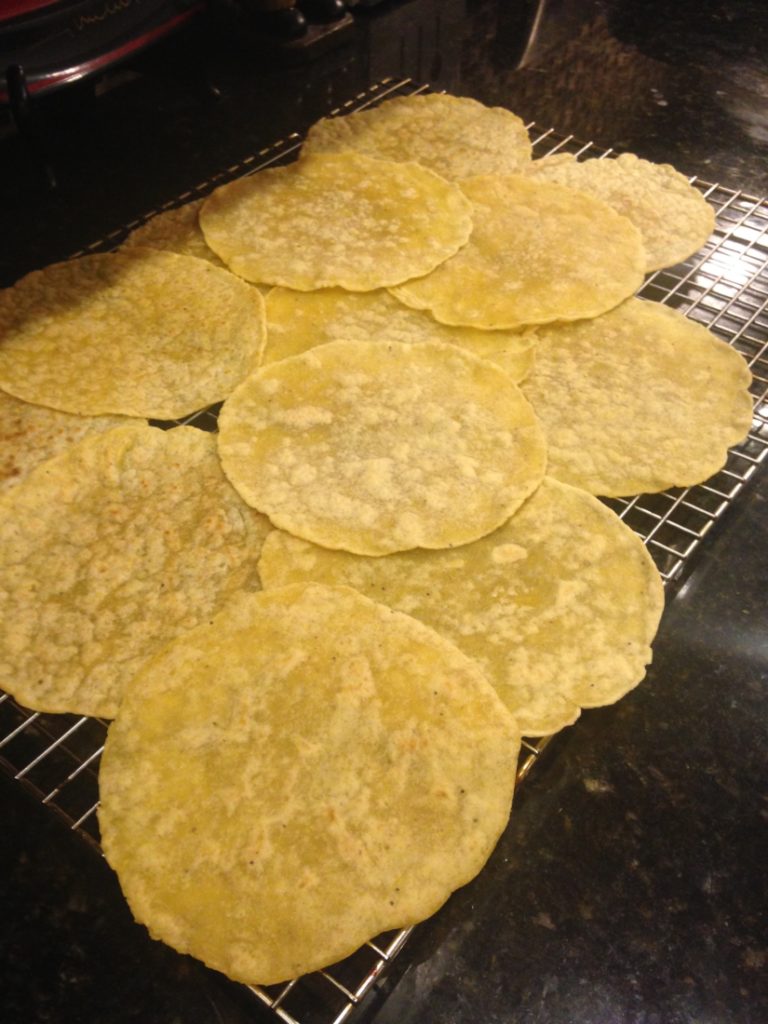 Ingredients
2 medium green plantains
2 tbsp coconut oil (or palm shortening or lard), melted
2 cups tapioca starch
1tsp fine sea salt
¾ cup water
Coconut or olive oil spray (or extra fat to oil the pan/griddle)
Instructions
Preheat oven to 400F.
Bake green plantains WHOLE (no peeling or cutting) for 40-45 minutes.
Once plantains are black and skin is starting to split, take out of oven and cool to room temperature (about 20 minutes).
After they're cooled, carefully peel plantains and cut into 1 1/2" sections.
Place in food processor and blend 30 seconds until you have a fine meal.
Add melted coconut oil (or palm shortening or lard), sea salt and water. Blend to a wet plaster.
Now add tapioca starch (adding 1/3 cup at a time). Each time blend and scrape bowl. The last addition of tapioca starch should create dough ball that pulls away from the side of the processor bowl.
Turn the dough into a bowl, cover with film and refrigerate for 15 minutes.
After dough is chilled, scoop into golf ball sized balls. Use the tortilla press to press each ball into a 6" tortilla (using oiled plastic film on each side).
Heat a pan to medium high or electric griddle to 400F. Oil with spray or use a pastry brush to spread other type of fat across the pan (remember, we're not FRYING these, just lightly coating so they don't stick).
Carefully peel the tortilla off onto your hand and flip onto oiled skillet.
Cook approximately 2 1/2 mins per side until set and showing toast points.
Eat immediately, or cool and refrigerate up to 7 days, or freeze up to 3 months.
Additional Equipment
Tortilla press (7 or 8-inch press works best)
Griddle (optional – could also use normal sauté pan or cast iron skillet)
http://www.instinctualwellbeing.com/

Psst…here's some additional process pics in case you like to see what each stage should look like: