I'm so excited to share this recipe with you guys. I've made three versions of this so far and while each time was better than the last, I think I've settled on this version to share with you all (also I'm not sure I could eat any more beef stroganoff… 😛 )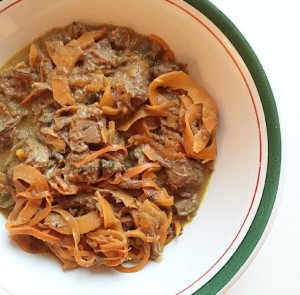 But really, this was a challenging recipe to figure out because traditional beef stroganoff is a dish with some pretty complex flavors in it, not to mention the quintessential creamy nature of it that is made up from heavy cream, butter, sour cream and cream of mushroom soup (which are #notAIP last time I checked).
So, thus started the quest to match our favorite stroganoff flavors while remaining AIP-friendly. The first version I made was O.K., but definitely not blog-worthy; my girlfriend and I ate it, but it was sort of just like . . . "so let's like, not make this again, K?"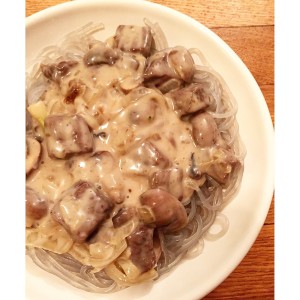 Then the second time was better, but the texture was off, so I went back to the drawing board once again, employed #mycrockpotwife, and got to cookin'. And when we tasted this recipe, we got the "happy recipe smiles" that we always get when we know we landed on a good one.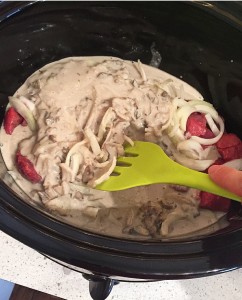 Now I'm going to forewarn you and give you a little pep talk here – this is going to look like one of those super annoying multi-step recipes that take you 4 years to make, but I promise you it's not nearly as bad as it looks (although yes, it may not be the best "Monday night throw together" dinner). But total hands-on time is only about 30 minutes, then you get to "set it and forget it" in your crockpot until it's delicious and ready for mass consumption.
Plus, you only have to make the Worcestershire sauce ONCE and then that just becomes another condiment you can keep in the refrigerator for later use on other dishes (or just more stroganoff).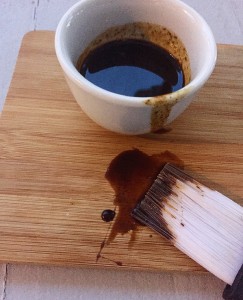 I'll also note that I personally felt like this cream of mushroom soup was just good enough to eat BY ITSELF (and it could be eaten as a meal by itself), so it's like you're getting two recipes in one if you so choose.
So, we hope you enjoy! I know we sure did. 🙂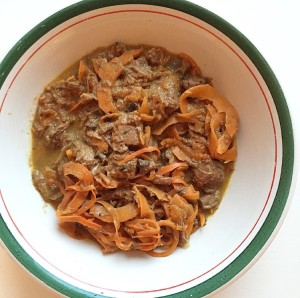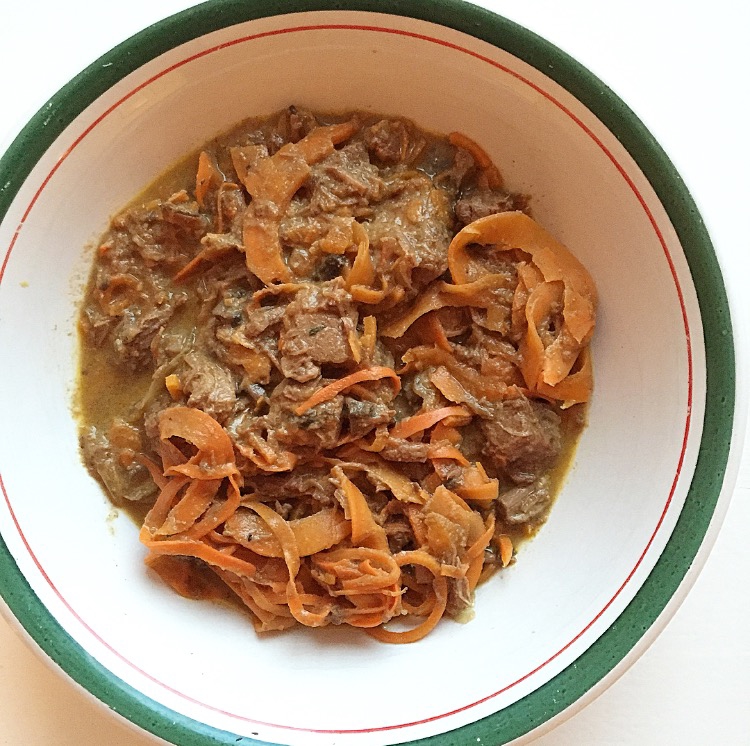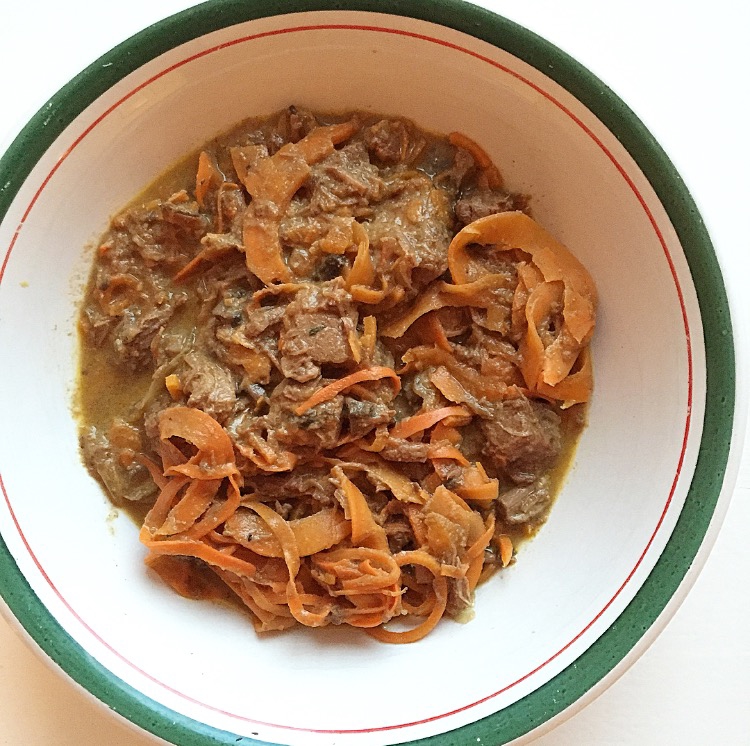 Paleo Beef Stroganoff (AIP)
2016-03-08 17:45:45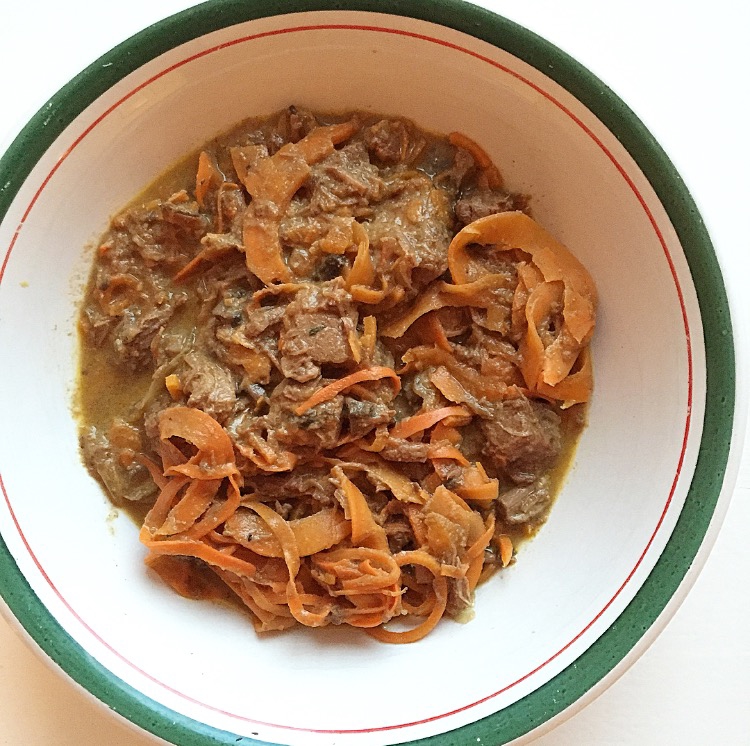 Serves 4
GENERAL INGREDIENTS
1.5 lbs stew meat
4 cups of your favorite paleo noodles (sweet potato noodles, zoodles, etc.)*
1 cup onion (about ½ large onion), diced and set aside
*Read "to finish up" note at the bottom of instructions
FOR CREAM OF MUSHROOM SOUP
1 tbsp coconut oil
1 tbsp garlic, minced
1 cup onion (the other ½ large onion), diced
8 oz mushrooms, diced
1 cup chicken broth (or bone broth)
½ tsp dried thyme
1 can full fat coconut milk
1 tbsp lemon juice
2 tbsp arrowroot flour
Instructions
First, get your Worcestershire sauce going on the stovetop. Then, move on to the cream of mushroom soup.
To make the soup
Heat coconut oil in a deep-dish skillet
Saute garlic, onion and mushrooms together until they begin to soften, about 10 mins
Pour in chicken broth
Remove ½ of the mixture and use the immersion blender to blend ½ of the mushroom-broth mixture until it's fairly smooth
Add ½ can of coconut milk to the immersion blender portion and continue to blend until thick and creamy
Return the blended mixture to the pot and mix back in with remaining mushroom-stock contents
Add the second half of the canned coconut milk to the pot, along with the 1 tbsp of lemon juice
Add in thyme
Bring the soup to a simmer (not a boil) on medium-low heat
SLOWLY stir in the 2 tbsp arrowroot flour to thicken the soup - I did this ½ tbsp at a time, stirring the whole time to make sure that the flour didn't clump
Once the soup is done, move on to the crockpot
Place meat in the crockpot and season liberally with salt
Add in remaining 1 cup onions on top of meat
Pour in the soup
Add in 1 tsp Worcestershire sauce
Stir all contents together in crockpot
Cook on HIGH for 5-6 hours, or until meat is tender
There are two options for serving this
This first is to cook your noodles separately and then pour the mixture on top of your noodles
The second option, which we actually REALLY liked, is to add your noodles into the crockpot about 30 minutes before the dish finishes cooking, stir together with the contents, and let them cook in the flavorful stroganoff juice. We liked this because the noodles were super flavorful and it also helped to soak up some of the excess liquid from the sauce itself.
SPECIAL TOOLS
Crockpot (slow-cooker)
Immersion Blender
http://www.instinctualwellbeing.com/